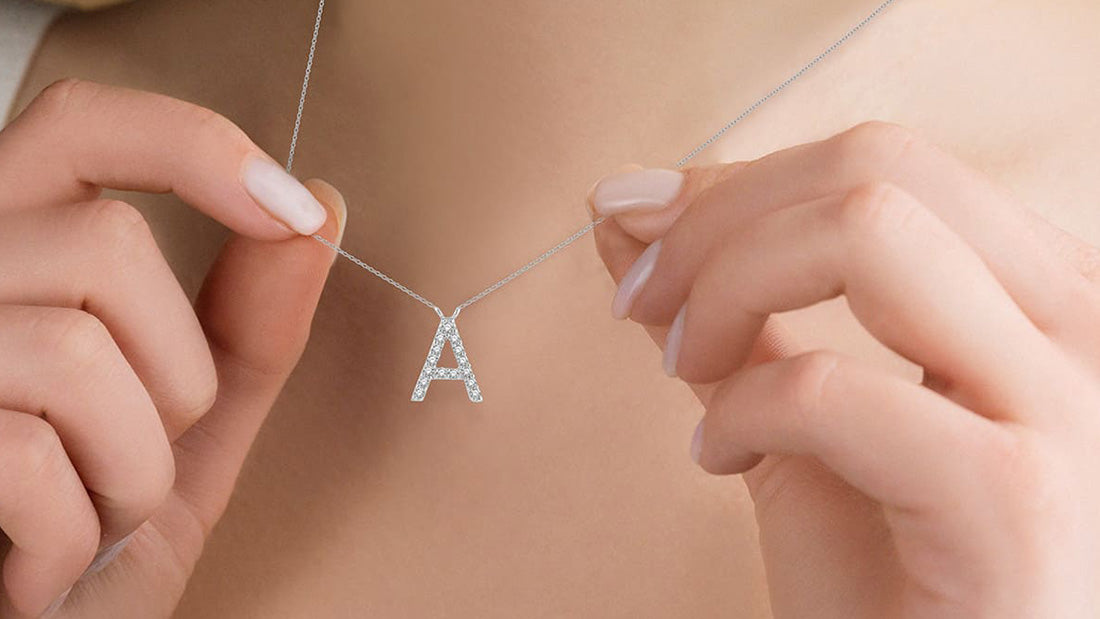 Initial Necklaces- A Timeless Trend That's Here To Stay
Initial necklaces have stood the test of time as a truly timeless trend. These delicate pieces of jewelry have become a staple in fashion and self-expression. Whether it's to represent your own initial or a loved one's, initial necklaces offer a unique and elegant way to showcase individuality and style.
Their versatility makes them suitable for any occasion, from casual outings to formal events. The beauty of initial necklaces in gold lies in their simplicity and understated charm, making them a go-to accessory that never goes out of fashion.
As a symbol of identity and connection, they make for heartfelt gifts as well. With their enduring appeal and sentimental value, initial necklaces are here to stay, adding a touch of personalized elegance to every outfit. Let's look at the best initial necklaces you can buy!
Top Initial Necklaces To Buy
14K WHITE .03 CT NATURAL DIAMOND ENGRAVABLE BAR
This exquisite engravable vertical bar pendant is a truly captivating piece of jewelry. Crafted with meticulous attention to detail, this pendant is set with a stunning 0.03 CT natural diamond, adding a touch of brilliance and elegance.
Customization is at your fingertips as you can select the precious metal that suits your style, with options including 14k white gold, 14k yellow gold, or sterling silver. Choose from six exquisite fonts to engrave your personal message or initials, creating a one-of-a-kind piece that tells your unique story. The pendant gracefully hangs from an 18-inch chain, completing the look with sophistication.
With its timeless design, high-quality craftsmanship, and endless personalization possibilities, this engravable vertical bar pendant is the perfect accessory to elevate any outfit or to make a thoughtful and cherished gift. This is one of the top-rated personalized mother's rings. Discover the beauty and individuality of our personalized jewelry collection today!
14K ROSE ENGRAVABLE HEART LOCK
This adorable heart lock necklace is a standout piece. Its sophisticated yet subtle style makes it the perfect accessory for any occasion, effortlessly transitioning from casual to formal attire. The versatility continues with the option to personalize the front and back of the heart lock, adding a heartfelt touch that truly makes it your own.
The adjustable chain ensures a perfect fit with any blouse or dress, allowing you to wear it at 16 or 18 inches. Crafted with care, this necklace is available in five stunning metals: 14k rose, white, and yellow gold, as well as silver and platinum. Choose from a variety of fonts to create a truly unique and cherished piece.
You have the added convenience of 4 interest-free instalments. Elevate your style and express your individuality with this exceptional piece of jewelry.
 14K YELLOW ENGRAVABLE PUZZLE PIECE PENDANT
Celebrate the special bond with your child by engraving their name on our exquisite engravable puzzle piece pendant. Crafted with love and attention to detail, this pendant offers the perfect opportunity to create a personalized treasure.
Choose your favorite precious metal from our selection of 14k yellow gold, white gold, rose gold, and sterling silver. With the option to engrave both the front and back, you can make this piece truly unique and meaningful.
For an added touch of charm, consider layering it with a small heart charm on the same necklace, creating a delightful and stylish look. With dimensions of 15.50mm x 12mm, this pendant is the perfect size to showcase your child's name. Discover the joy of our engravable puzzle piece pendant and carry the essence of your child's love with you always.
14K YELLOW 3-DISC ENGRAVABLE FAMILY 18" NECKLACE
Treat yourself with our creative and truly unique engravable family necklace. This exceptional piece of custom jewelry is not only fashionable but also designed to be worn every day.
Customized for families of 1-5 children, each disc on the necklace is engraved with a child's initial on the front and their corresponding birthday on the back, adding a personal touch that celebrates the love and connection within the family.
With a variety of metals to choose from, including 14k rose, white, and yellow gold, you can select the perfect metal to suit your style. Explore our range of fonts to further personalize this 14K yellow gold 3-disc engravable family necklace, making it a cherished keepsake.
Conclusion
When it comes to selecting high-quality and reliable jewelry, you need to shop from experienced sellers. Look no further than Luvona, an established name in the industry. We take great delight in providing exquisite jewelry, such as initial necklaces, bracelets, and other items.
Every item you get is made with accuracy and attention to detail thanks to our constant dedication to quality. Because we recognize how important cost is, we strive to provide our consumers with reasonable pricing without sacrificing quality.
At Luvona, we believe that everyone deserves to indulge in beautiful jewelry that reflects their personal style. Choose Luvona for a trusted shopping experience that guarantees remarkable craftsmanship, durability, and stunning designs.
Disclaimer-
The information provided in this content is just for educational purposes and is written by a professional writer. Consult us to learn more about initial necklaces.